Discover What's Hot for Self-Care This Year
The Holiday Self-Care Gift Guide for Moms provides a variety of ideas for you or the mom in your life.
For many moms, self-care is an idea rather than an actuality. But if anybody deserves a little pampering and attention, it's mom.
What's the benefit of self-care? Enjoying a little "me time" helps in the management of stress levels and maintaining a sense of self outside of being a mom.
Momming, (yes it is a verb) Momming is a full-time commitment of time and attention toward your family. For natural care-givers, giving to themselves often falls to the bottom of the list.
But, once you realize that every engine needs a charge to operate, you may come to understand that, as the engine of your family, the same applies to you. The ideas shared below will be welcomed and appreciated, whether you're investing in yourself or a mom that you cherish.
Taking time for reflection is a great investment in your mental health and well-being. Moms aren't afforded a lot of quiet time, so make the time you do have benefit your health and happiness. The Gratitude Journal for Single Moms offers you a chance to get in touch with your inner voice. It's a place to vent and appreciate all of the things happening in your life. It includes quotes of encouragement and writing prompts as well to keep you going. Not a single mom, check out the Upon Reflection Journal for Moms.
You may not realize it, but silence can be a form of self-care. It's not hard to experience sensory overload. I'll even argue that it happens frequently when you're a parent. It sure does for me. There's a lot of noise in a household of happy kids. Sometimes, it's hard to find a quiet space to think. If that's you, create one with the Bose QuietComfort 45 Noise Cancelling Headphones. Lightweight and compactable, they make it easy for you to find some quiet time, just for yourself.
LEGO's stand the test of time. You played with them as a child and now they are part of your kids lives. The LEGO Flower Bouquet Building Kit, is the perfect marriage of creative expression and child-like joy for kids. If you enjoy coloring for relaxation, you'll also have fun making your own LEGO flower bouquet. Create your flowers and arrange your bouquet in a vase for display in your home. Looking to up the challenge? Check out the LEGO Ideas Ship in a Bottle.
The best part about cooler weather is the beginning of UGG season! Your feet have been crying out for a cozy little place to rest. This winter, you want the UGG Women's Fluff Yeah Slide Slipper. Shop early to be sure your size and color are still available. Once you slip your tootsies into these super soft slippers, you will soon hear your feet sigh with thanks and relief.
The Uttermara Sherpa Weighted Blanket is a great choice for people that are looking for a better night's sleep. A nice, fuzzy blanket can feel cozy and comforting. You can get that and more from a weighted blanket. Weighted blankets help alleviate anxiety and sleep disorders and benefit people with autism and ADHD. It's like a bear hug that you didn't know you needed.
Wouldn't self-care be easier if it just came to you? Subscription boxes are a great way to bring all the luxe, relaxing and comforting care you deserve right to your door. Boxes may contain beauty products, jewelry, snacks, journals, candles and more! There are 1 month and 3 month delivery options available. HER-MINE is woman-owned, so they know first-hand how important it is to care for your well-being. Free shipping in the USA. No contract, no commitments. Cancel anytime.
Few of us have the time or the finances for regular facials. If you can do it, great! But if not, then a little at home treatment is a great compromise. Face masks, like the Tami Sense Sheet Mask, are an easy, quick way to feed your skin with restorative the restorative, moisturizing nutrients it craves. They're easy to apply and feel great when removed.
Looking good and feeling good often go hand-in-hand. Through the use of herbs, The Ayurveda Experience creates powerful, targeted formulations based on history, science and culture going back thousands of years. These natural products enhance and improve the quality of your skin, nails, body and hair to help you feel like the best version of yourself. Take a look and find just the product you need for your well-being.
Moms know how hard it can be to get the rest you need. Sometimes, it works to fake it until you feel it. If you find it hard to get enough rest, maybe you can look like you're fresh faced. TruSkin Vitamin C Facial Serum can give you the glow that your skin may be lacking. The hyaluronic acid and Vitamin E combing with Vitamin C to repair your skin, under the surface and reclaim the brightness you enjoyed when you could get a good night's sleep.
Being a responsible consumer is becoming more important each day. Do your part by choosing natural beauty products that are vegan as well as paraben + cruelty free. Katherine Cosmetics takes this seriously. The Katherine Girl knows she can be beautiful without compromising her beliefs or the environment. Whether you opt for the healthy glow from the Siena Highlighter or a palette of beautiful eyeshadows to make your eyes pop, you will feel good about looking good.
Taking a long soak in the bath tub can be so amazing. But, time and availability can make that hard for a lot of people. Don't think of a shower as just quick and functional. Showers can also provide relief and rejuvenation. Hot water is a start, but adding a little something, like Cleverfy Shower Steamers transforms your shower into a spa. They are vegan and cruelty free and the scents and essential oils relieve congestion and provide relaxation.
Did you know that your biofeedback is beneficial to wellness? As noted on the Reflect site, "The Reflect Orb uses biofeedback to measure your physiological signals and reflect them back to you, helping you learn how to control your daily stress." Think of it like a time for quiet reflection and introspection. If you're familiar with meditation, the Reflect Orb offers similar results, with the added benefit of data to show your journey to relaxation.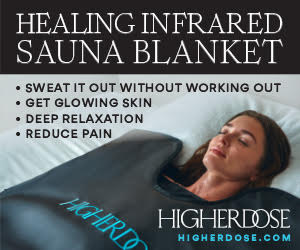 How do you feel after taking a steam? Relaxed? Refreshed? Sauna's detox the skin to enhance the glow. They also aid in relaxation and help with pain reduction. Now you can bring the healing effects of the sauna home for a fraction of the price with the HigherDOSE Sauna Blanket. Just lay back and relax under the blanket to reap the benefits of a full-size sauna. This is the sauna that you can take with you too! HigherDOSE offers a 30-Day money back guarantee and 1 year warranty to ease your mind.
Final Thoughts: The Holiday Self-Care Gift Guide for Moms
When it comes to self-care, think of it as maintenance for your well-being. Moms get pulled in every direction, all at once and rarely consider that they too need to be cared for.
Pampering yourself can be a simple or indulgent process.
There are so many ways that you can provide your heart, mind and body with what you need to feel whole. The Holiday Self-Care Gift Guide for Moms is here to give you a little inspiration for you or help you to consider your mom in a more meaningful way.
The hardest part of the equation is time. If necessary, schedule your personal time. Make yourself a priority so that you're able to care for your loved ones in the way that you want to. They deserve it. More importantly, you deserve it.
In search of more inspiration, be sure to check-out self-care gifts for moms.